The ultimate self-care ritual
THE RETREAT COLLECTION
Welcome to The Retreat Collection by Floragy. Transform your home into a sanctuary of absolute serenity with this series of special personalised products designed to optimise those sacred moments of leisure. Melt away the day's distractions as you embark on a journey of rejuvenation. Illuminate your space with our signature spa candle and inhale the calming aromas of our lavish Bath Salts, as you experience  the gentle purification of our Detox Clay Mask, revealing a radiant complexion and relieving the burdens of stress. Emerge rested and restored, returned to yourself once more.
The ultimate self-care ritual
THE RETREAT COLLECTION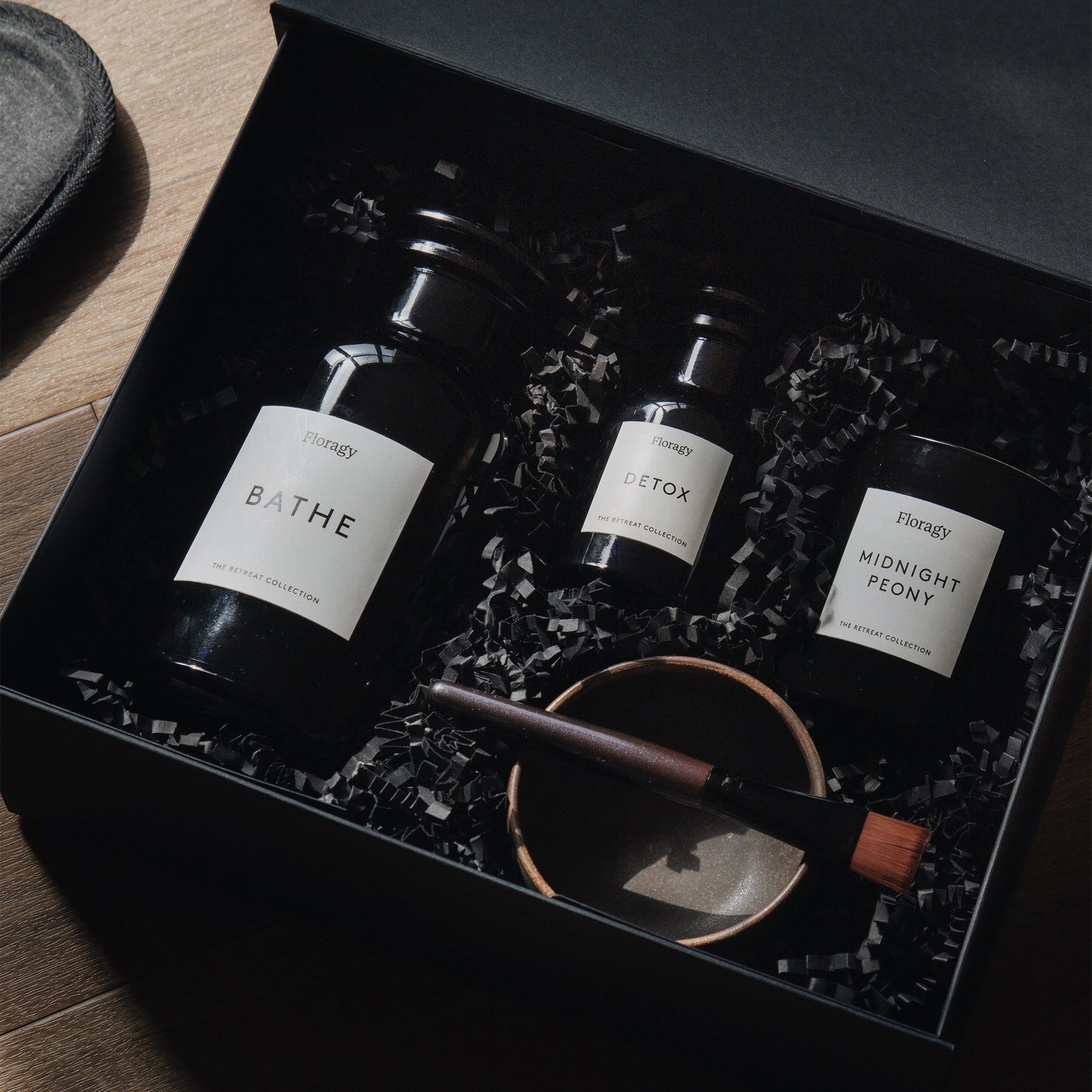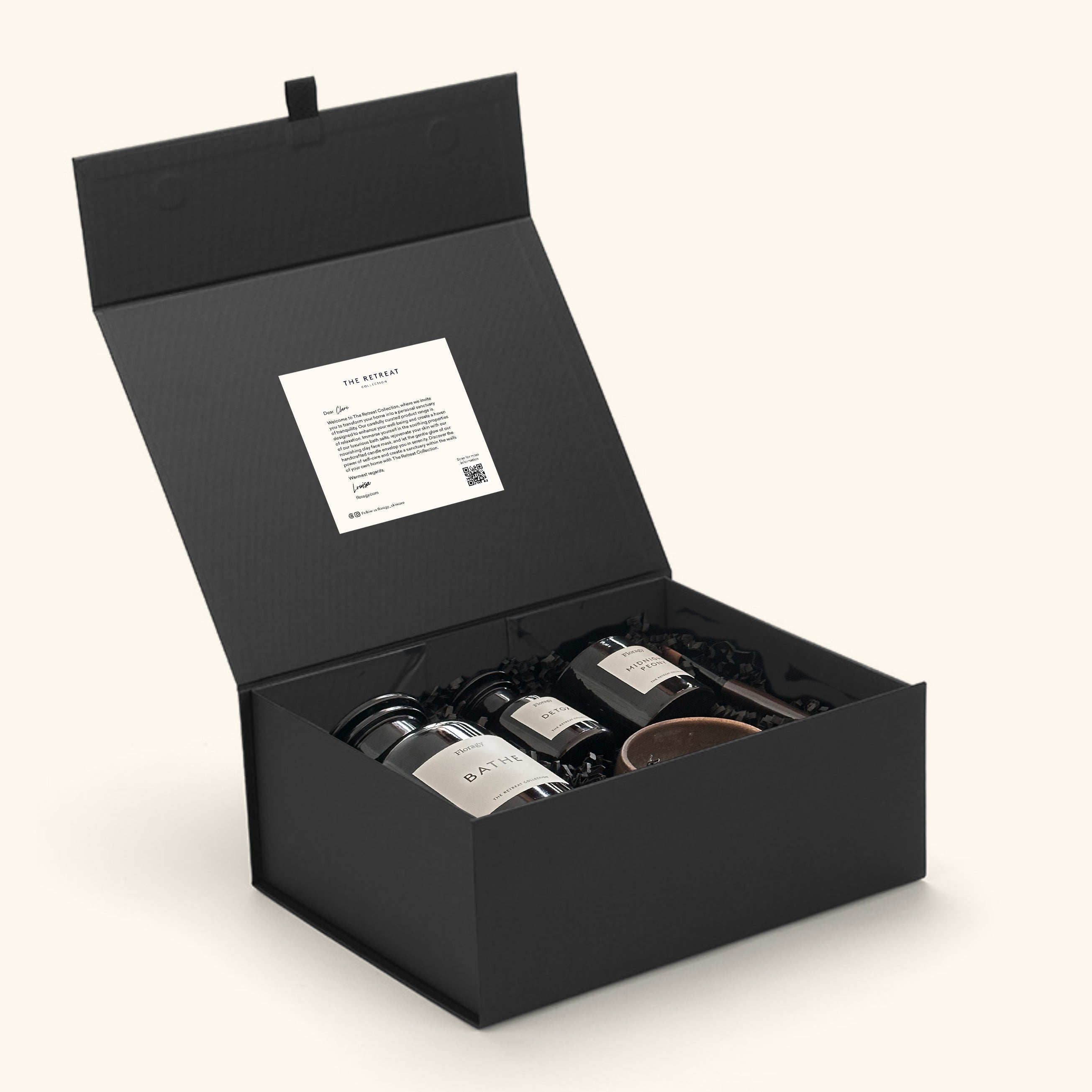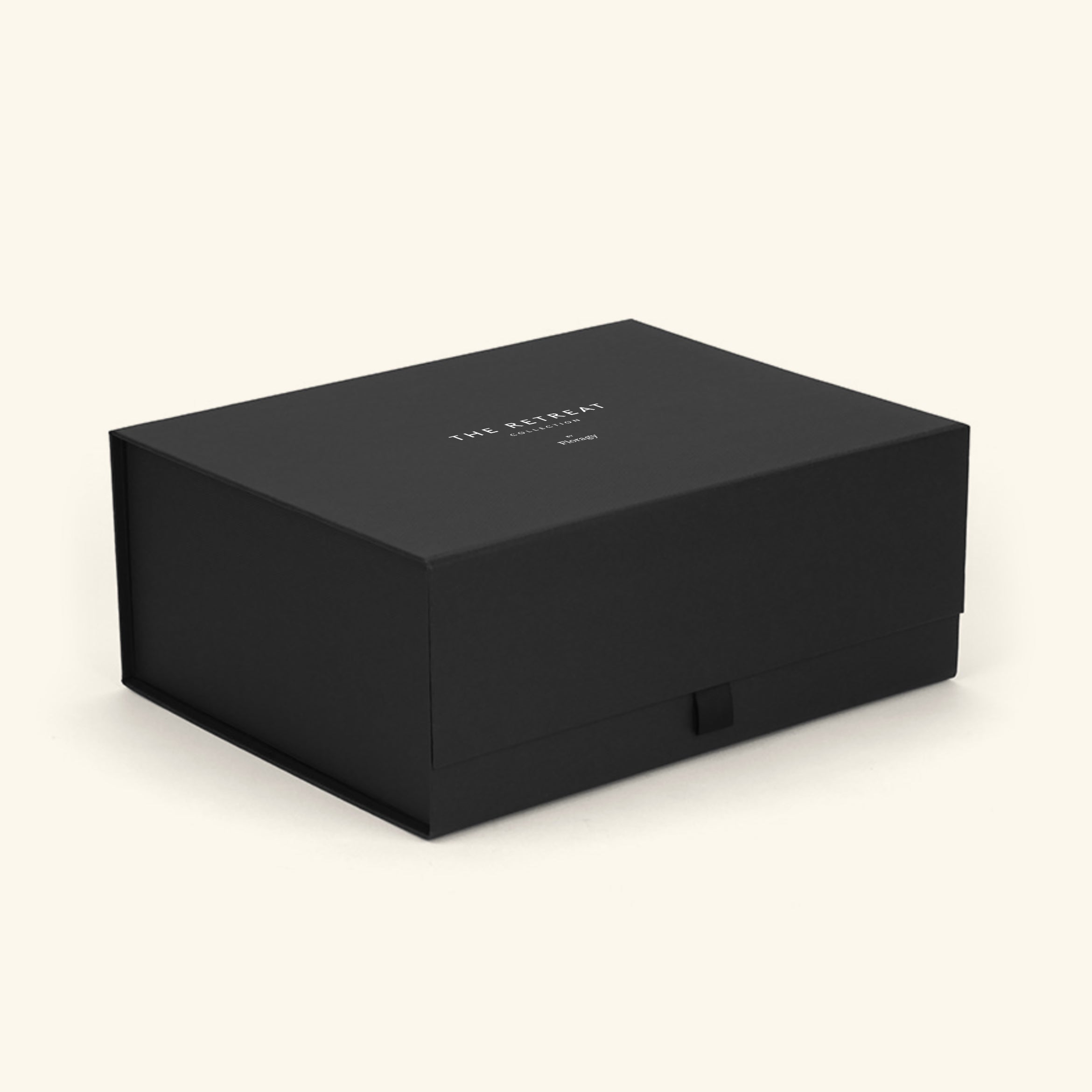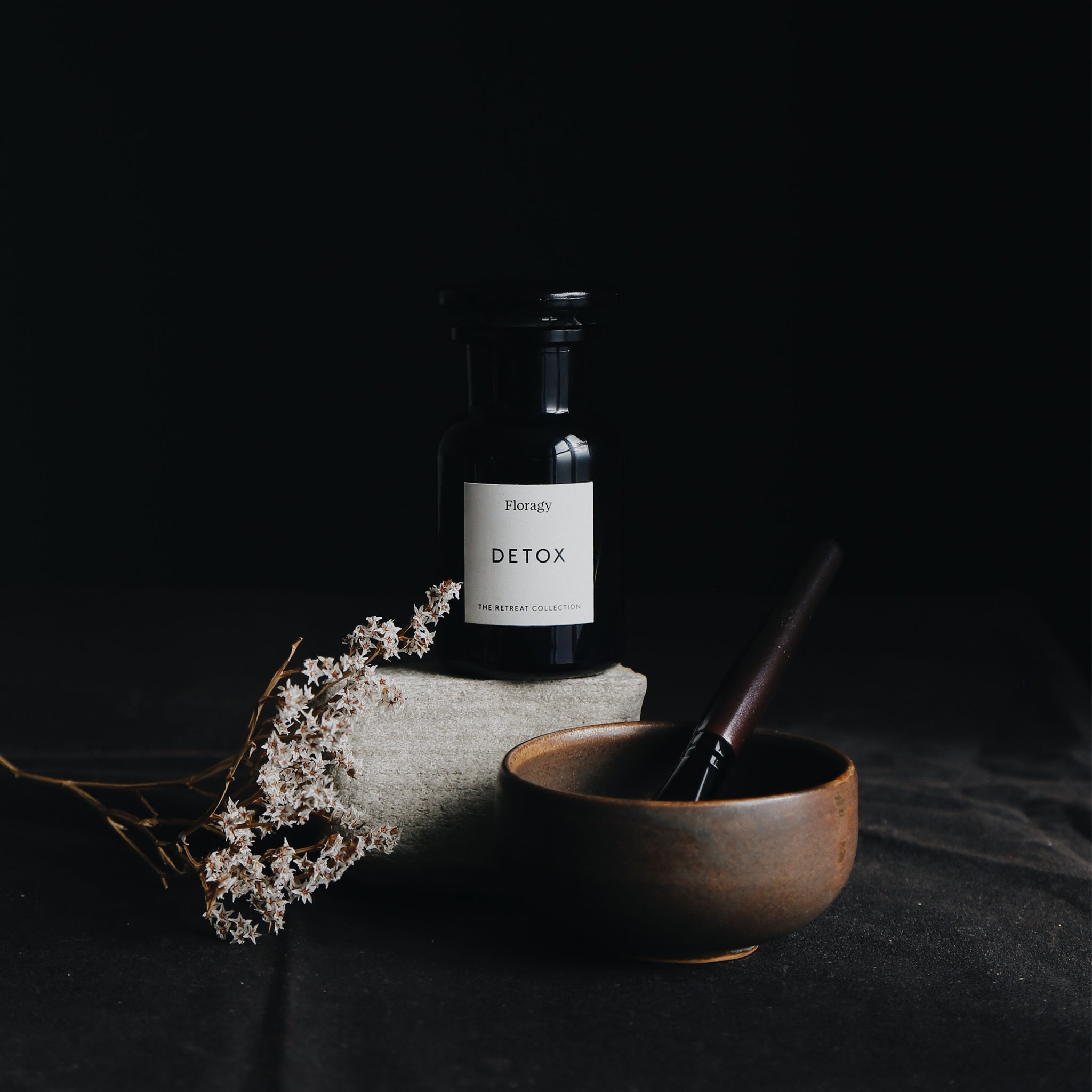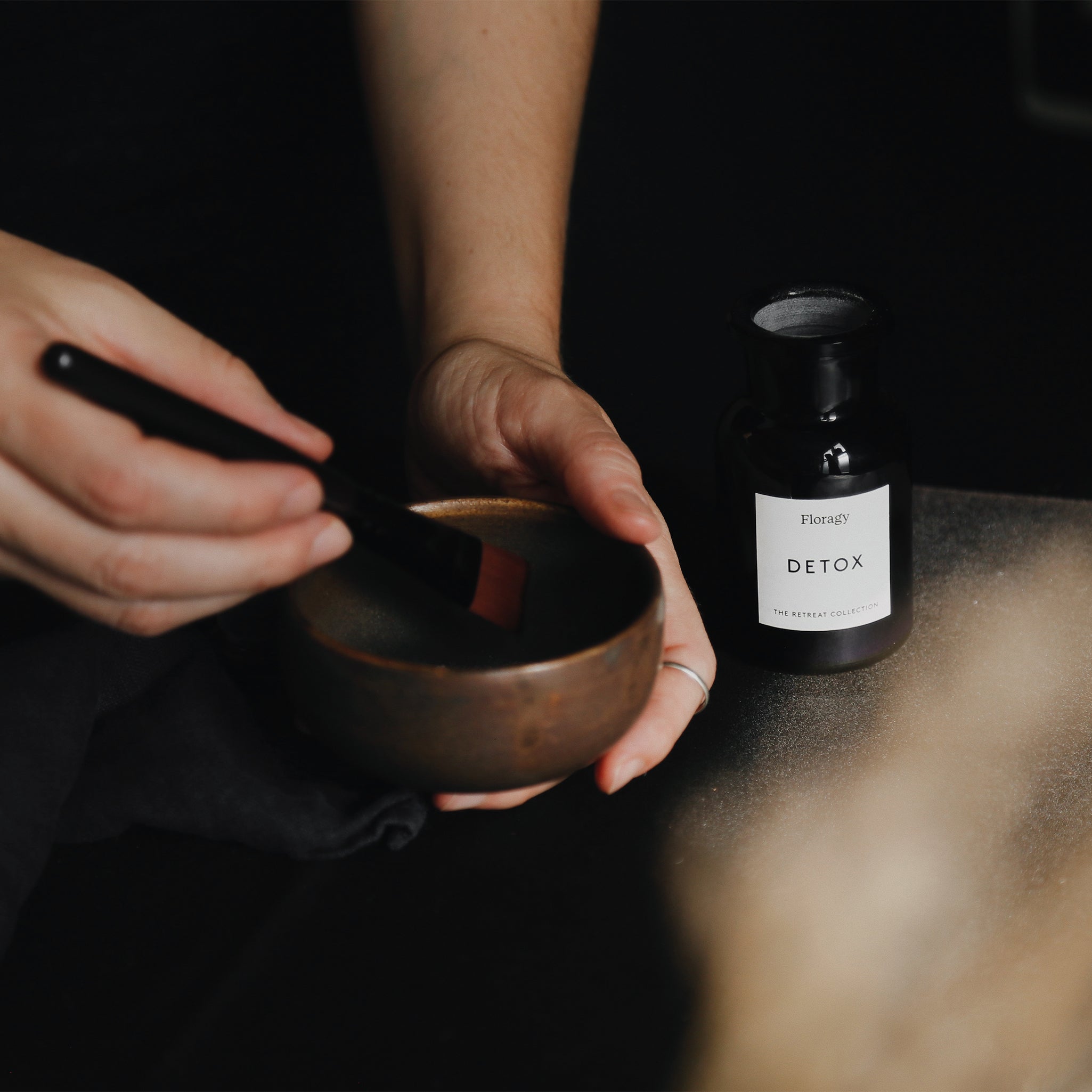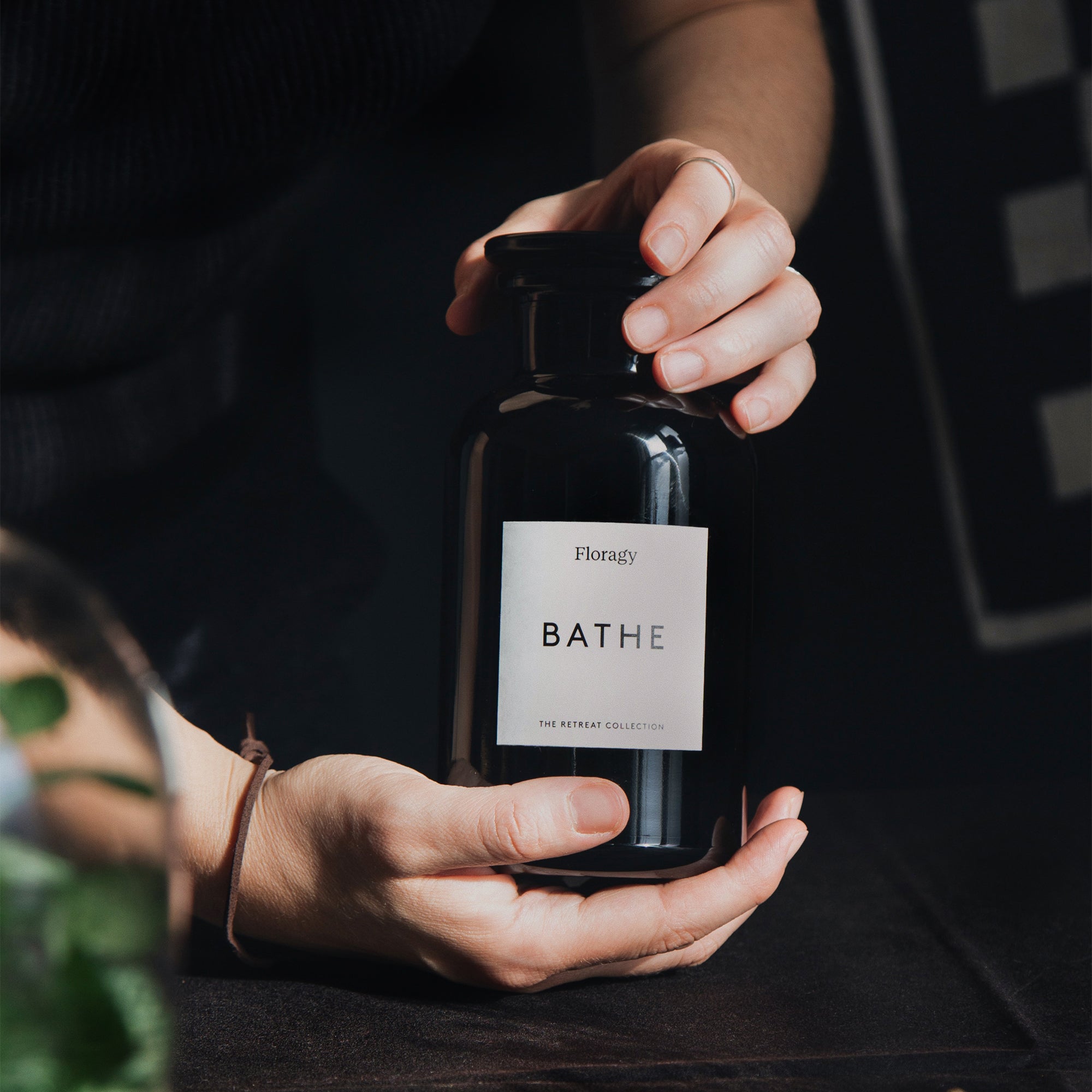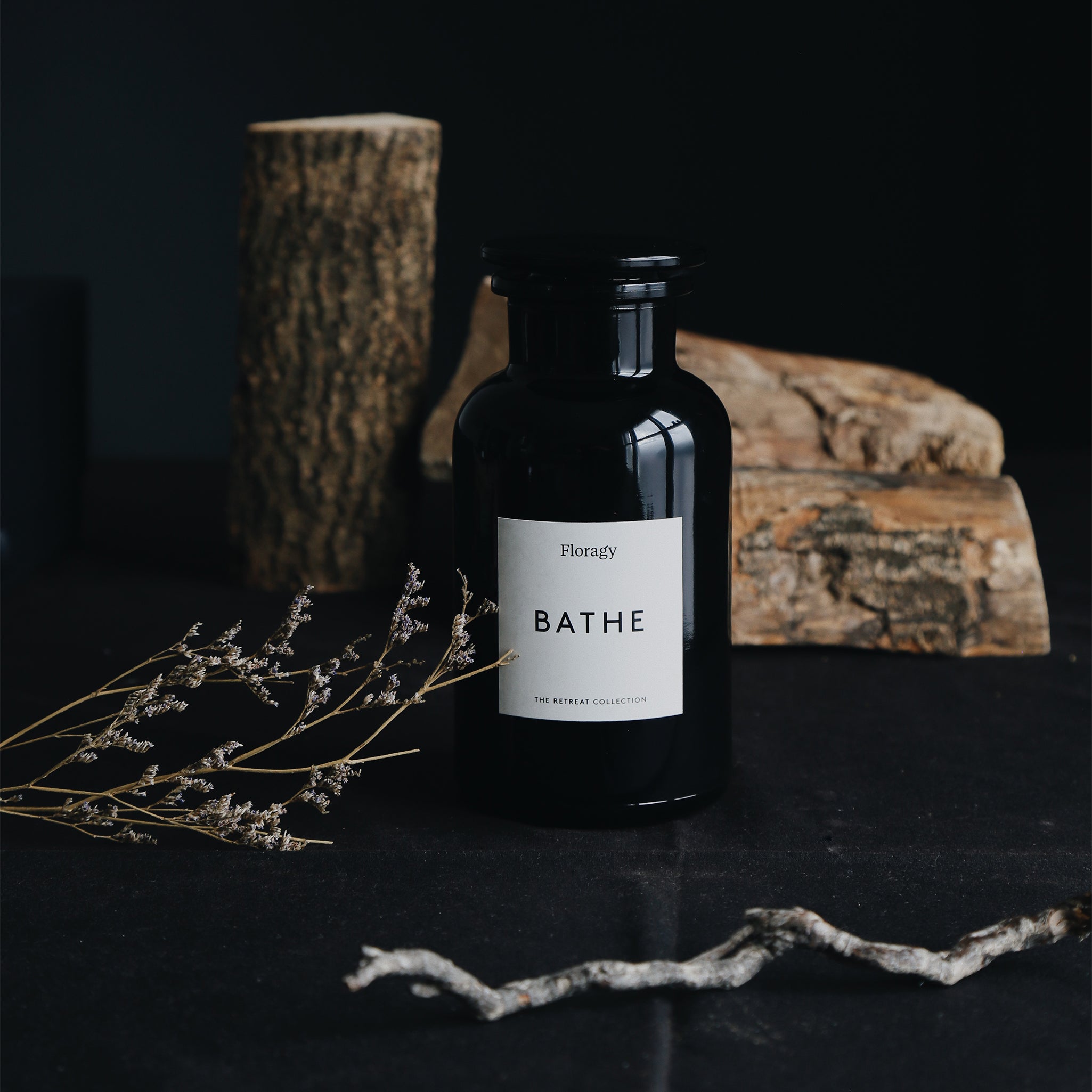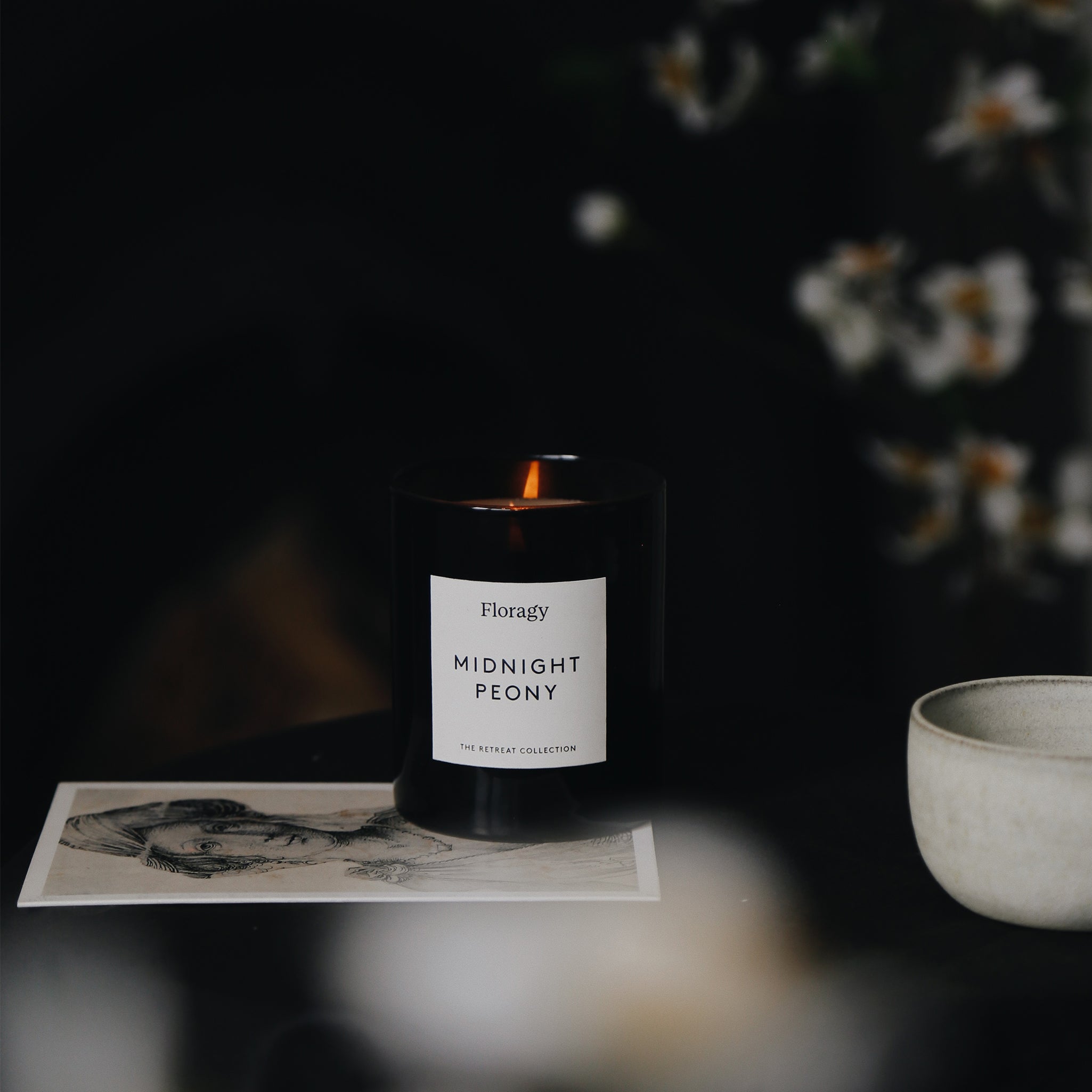 Sale price

£120
Regular price
(/)
Give the ultimate gift of sustainable luxury to that special someone with our Retreat Collection. Create a sanctuary within your home with this personalised spa experience. Choose your Bath Salts, Clay Mask, Candle and then a playlist for a bespoke retreat, complete with a hand thrown and unique clay bowl and mask brush accessory.

Bathe

Select a restorative scented salt bath inspired by the beauty and power of nature. With a blend of four of the finest salts; Celtic Grey, Dead Sea, Epsom and Pink Himalayan to help dissolve stress, relieve tired muscles and leave your skin feeling silky smooth. 560g.

Forest – Experience the enchantment of our Forest Bath Salt blend crafted with the soothing essence of Sage, Pine and Cedarwood with added Cornflowers.
Grove – Mandarin, Lemon, Lavender, Petitgrain - Immerse yourself in the refreshing essence of our Grove Bath Salt blend balancing the invigorating scents of Mandarin, Lemon, Lavender and Petitgrain, with added Lavender flowers.
Maroc– Rose, Rose Geranium, Cedarwood, Lavender - Indulge in the allure of our Maroc Bath Salt blend enriched with the exquisite fragrances of Rose, Rose Geranium, Cedarwood and Lavender with added Rose petals. 

Detox

Choose a luxurious, soothing clay mask enriched with nature's finest ingredients to help draw out impurities to unveil your skin's true natural radiance. A metamorphic new beauty ritual just for you. 100g, makes 10-12 masks.

Glow – Açai Berry, Aloe Vera and Rose
Radiant – Strawberry and Coconut
Refresh – Peppermint and Matcha

Candle 

Allow the gentle glow and transportive scent of one of our candles to instil feelings of calm and evoke cherished memories. Elegantly created using sustainable soy wax and carefully selected fragrances. 30cl - approx 30hrs burn time.

Fig + Vetiver – Wild Soft Fig
Midnight Peony – A beautifully floral rich scent
Sea Salt + Driftwood – Ozonic fresh scent with Amber and Water Lily

The Bowl + Brush + Box

Add a unique touch to your moments of relaxation with our handmade bowl. Hand thrown by skilled local ceramicists Riv + Read, each bowl is a unique work of art. The set also includes a Floragy branded brush to help mix and apply your detox clay mask. The Retreat Collection is presented in a beautiful box, making it the perfect gift this Christmas. 

Refills

Refills for Bathe, Detox and the Candle are below, just click on the relevant product.

IMPORTANT INFORMATION – For the Bathe Bath Salts patch test before full application, avoid eye contact, not be used on broken skin or mucous membranes, if irritation occurs discontinue use. Do not use if you are pregnant or breastfeeding.
"Within you there is a stillness and a sanctuary to which you can retreat at any time and be yourself."
Herman Hesse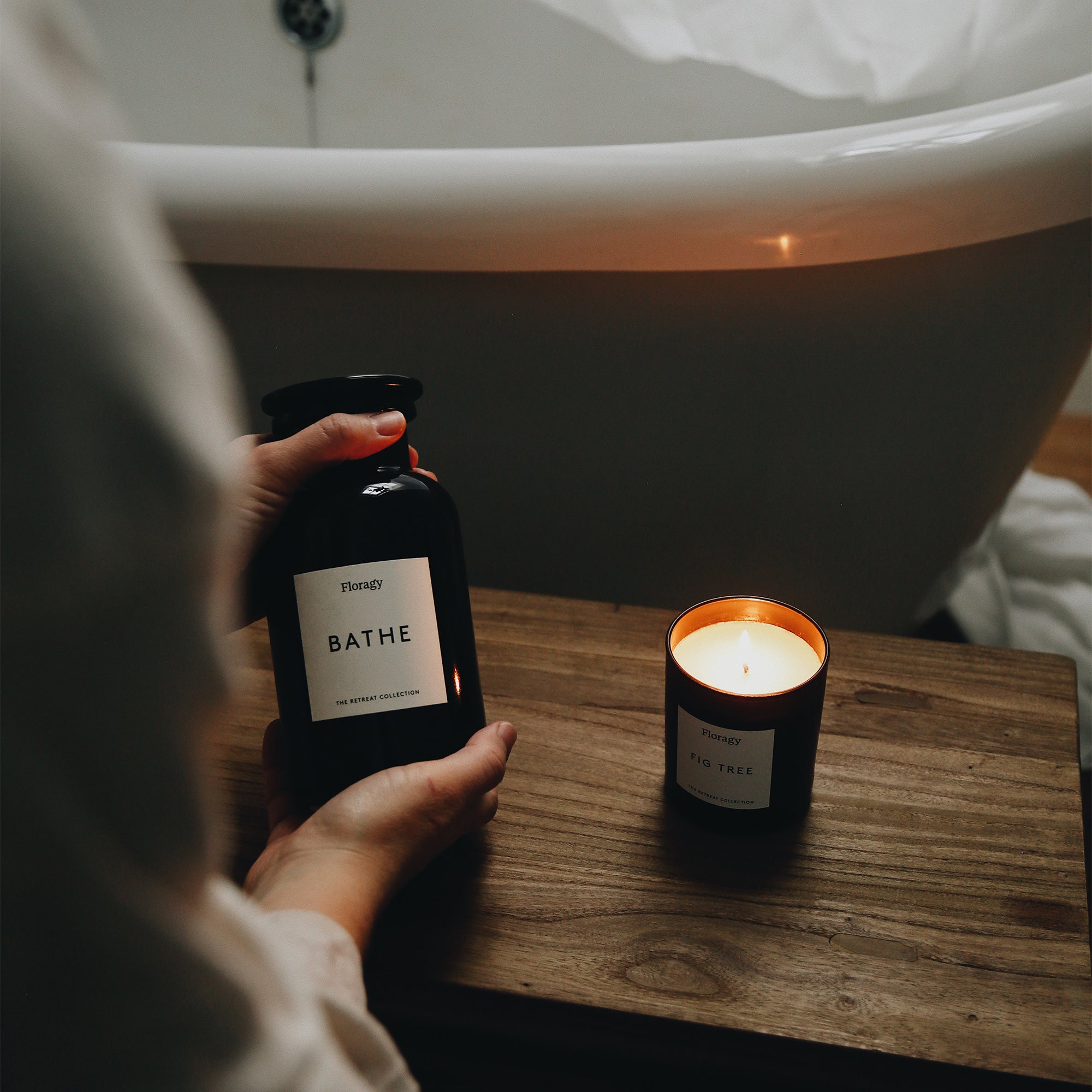 THE RETREAT COLLECTION
For the mind, body and soul.
Embrace the ultimate in self-care, lean into luxury and enjoy a transformative time of quiet reflection. A moment to pause, breathe and reconnect with your inner self. 
Allow The Retreat Collection to transform your home into a blissful sanctuary with our thoughtfully crafted products where you'll discover a sense of balance, contentment and tranquillity.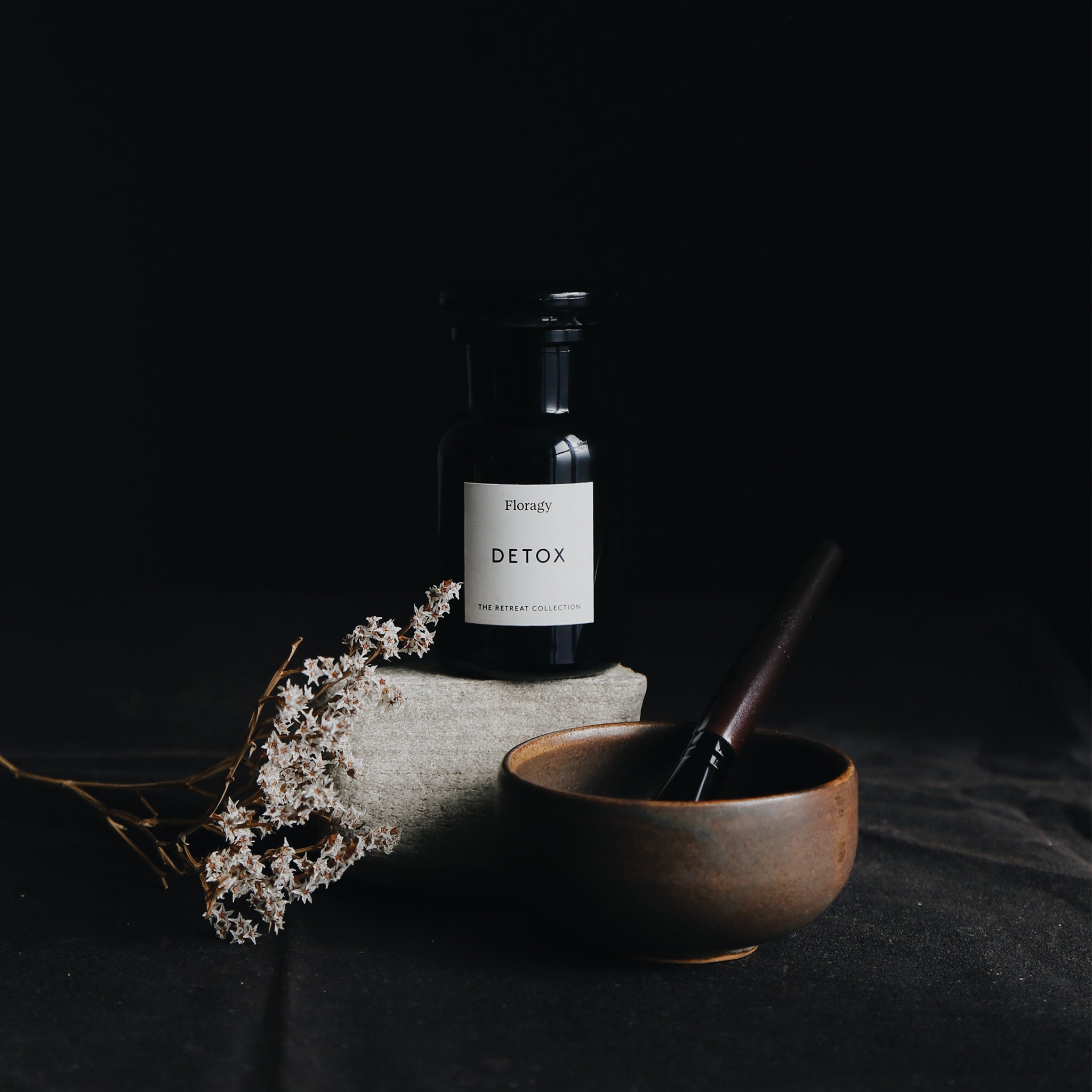 THE RETREAT COLLECTION
DESIGNED FOR A GREENER FUTURE
Our range of luxurious products are crafted with care for both you and the planet in mind. Discover our refill ethos (available 15th October), designed to minimise waste and help contribute to a greener future. Replenish your apothecary jars with our 100% recyclable refill pouches available for Bathe and Detox. Our sustainable soy candle refills with cotton wicks will seamlessly slip into the glossy black candle jars after they've finished. Plus the dust covers are embedded with 20 different UK Native wildflower seeds, to plant and enjoy.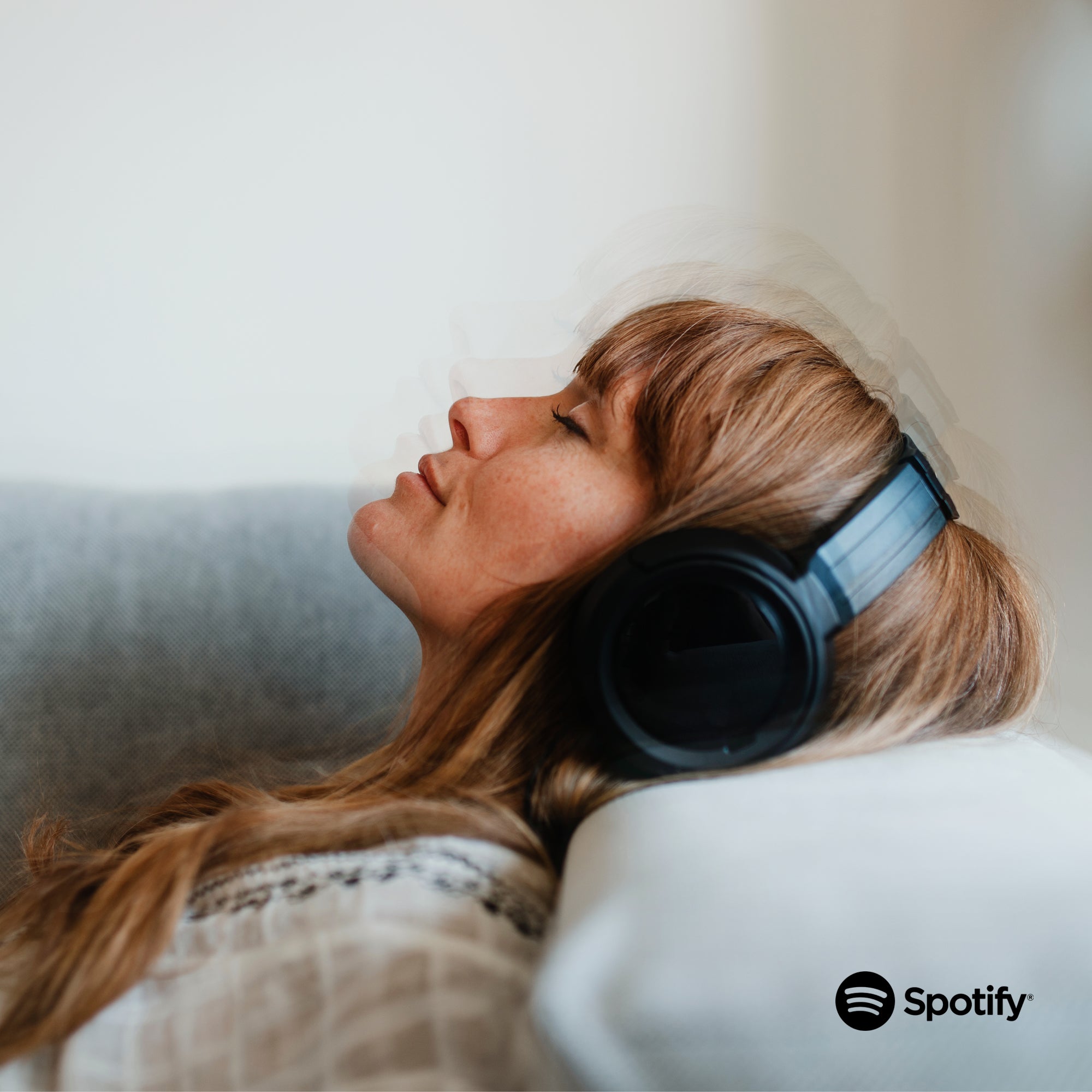 THE RETREAT COLLECTION
YOUR PLAYLISTS
The soundtrack to your serenity. Let the gentle melodies of our  Retreat Collection playlists embrace your soul as you unwind from your daily stresses. Breathe, let go and suspend yourself in this musical sanctuary.
Vol 1 - A blissful journey of ambient chilled tunes
Vol 2 - Upbeat, but still relaxing music, to help set a soothing atmosphere
Vol 3 - Relaxing spa music
VOL 1
VOL 2
VOL 3
"Moments of relaxation and tranquility should be found in spaces within our own home, so we created The Retreat for those seeking calm amidst a busy life. It's luxurious yet eco credentials make it the perfect 'home spa' experience to whisk you away to your quiet place. Making a more sustainable range was important to us, so all of the products, even the candles are refillable so the beautiful apothecary jars will always have pride of place in any bathroom."
Louisa Tidy – Founder