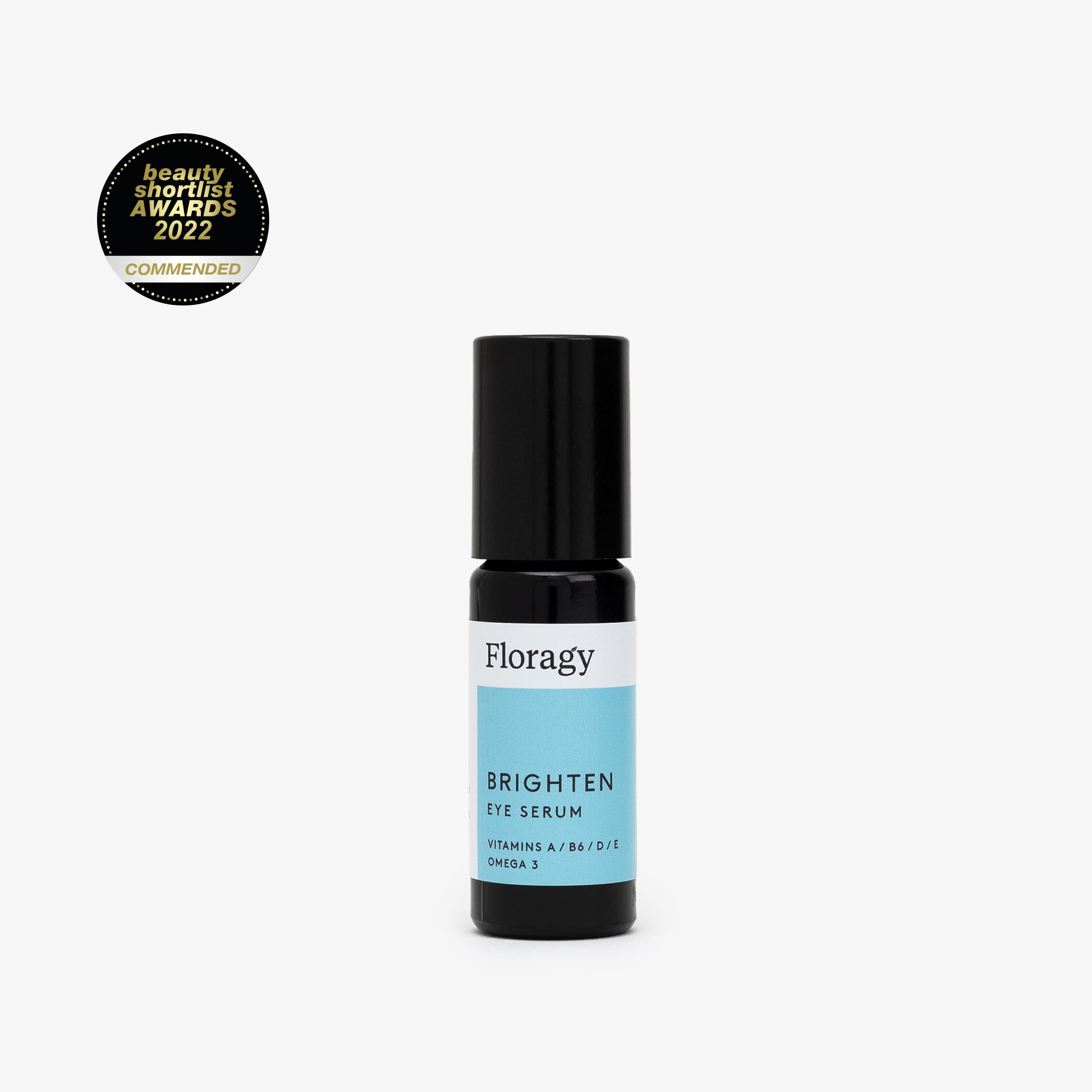 Sale price

£15
Regular price
(/)
Refresh weary eyes with our feather-light, botanical-infused serum!
Meet your new skincare essential: our scent-free eye serum, carefully formulated to help improve the appearance of the skin around the eyes. Suitable for all skin types, this easily-absorbed oil harnesses the power of plants to help prevent the signs of ageing and support a healthy skin barrier.
Its small but mighty ingredient list features Wheatgerm Oil, providing a source of essential Vitamin E and supporting healthy collagen production, alongside Rosehip Oil (Vitamin A for cell regeneration, Vitamin C to brighten) and Cucumber Seed Oil (high in antioxidants and anti-inflammatory).
AWARDS
Commended at the 2022 Beauty Shortlist Awards.
IMPORTANT INFORMATION – Patch test before full application, avoid direct eye contact, not be used on broken skin or mucous membranes, if irritation occurs discontinue use.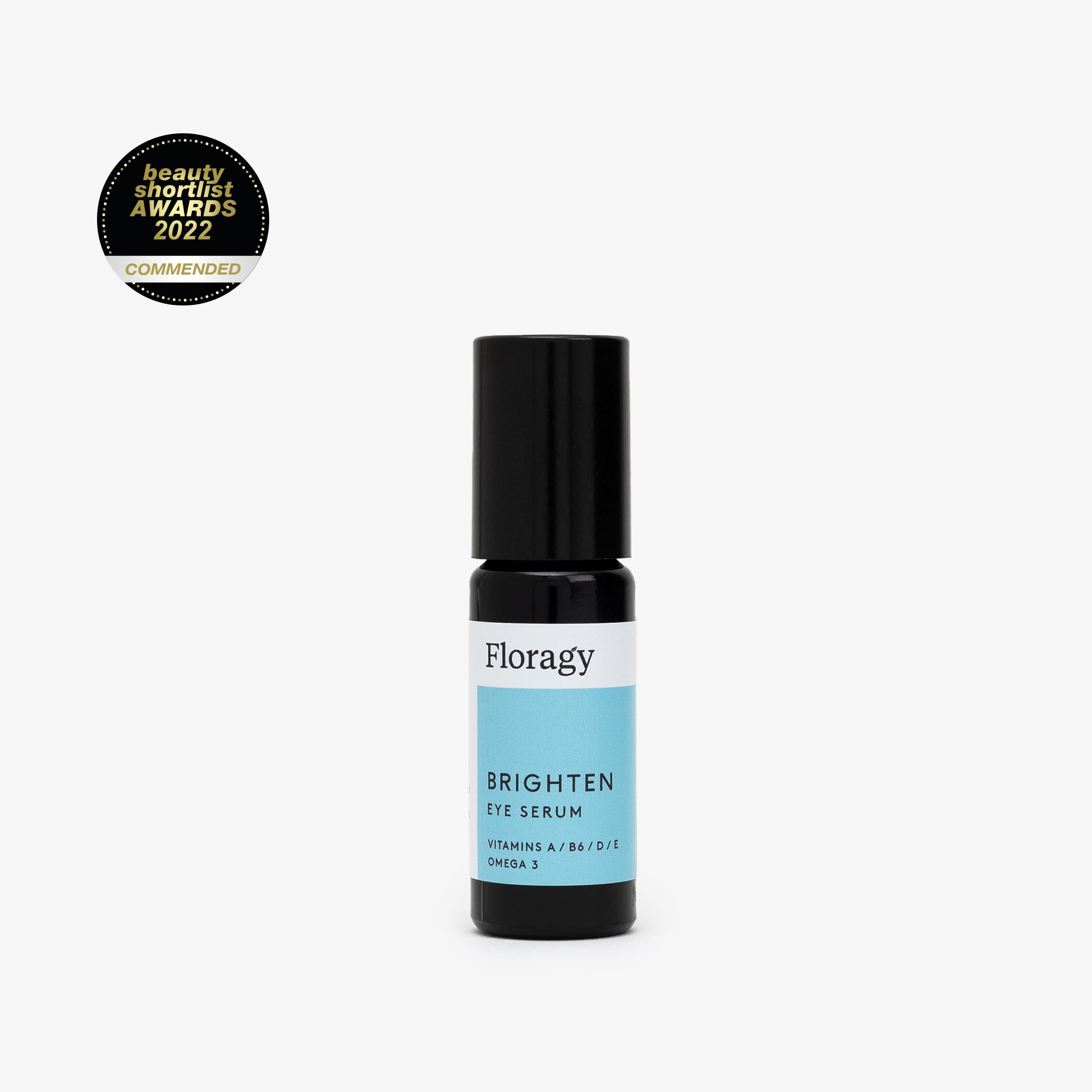 Brighten – Eye Serum
Sale price

£15
Regular price
Choose options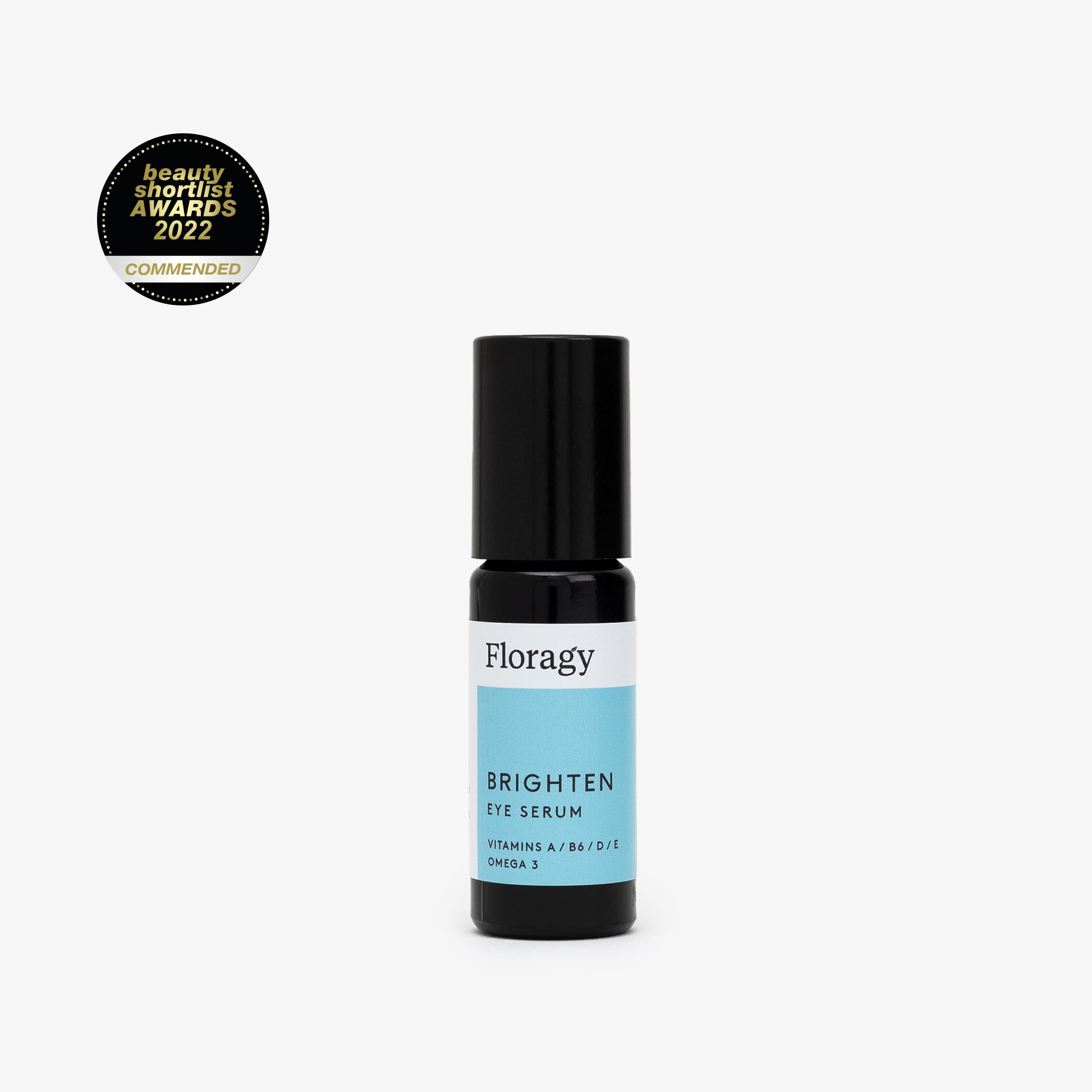 BRIGHTEN EYE SERUM
KEY BENEFITS
Contains Vitamins A and C which help support collagen production
Evens skin tone around the eyes with regular use
Reduces puffiness
Soothes and cools the eye area
Helps to brighten dark circles
Naturally cooling effect around the eye area
Contains antioxidants like tocopherols and phytosterols, which protect the skin from free radical damage
BRIGHTEN EYE SERUM
HOW TO USE
Apply around eye area and gently pat into the skin before sleep, to help nourish and restore the skin's radiance. Keep refrigerated for an extra cooling sensation.
Find out more about serum's in our journal post below.
THE QUEST FOR THE PERFECT SERUM
BRIGHTEN EYE SERUM
INGREDIENTS
Cucumber Seed Oil – is high in antioxidants, soothing to the skin and helps with puffiness due to its anti-inflammatory properties. Read more about this amazing oil below.
Rosehip Oil – its rich vitamin A and C content helps reduce fine lines and wrinkles, while essential fatty acids hydrate the delicate eye area. Its antioxidants combat free radicals, reducing premature aging. Additionally, rosehip oil can alleviate dark circles and puffiness by promoting circulation. Its non-irritating nature suits sensitive skin.
Wheatgerm Oil – is a great source of Vitamin E which can help to reduce skin damage and also supports healthy collagen production.
INGREDIENT SPOTLIGHT
CUCUMBER SEED OIL
Cucumber Oil is the main ingredient in our eye serum. Here are some of it's incredible skincare benefits...
Hydration: Cucumber Oil is rich in essential fatty acids and water content, which can help to moisturise and hydrate the skin around the eyes. This can reduce the appearance of dryness, fine lines, and wrinkles.
Anti-Inflammatory: Cucumber Oil contains antioxidants and anti-inflammatory properties that can help soothe and calm irritated or puffy eyes. It may reduce redness and inflammation, making your eyes appear brighter and less tired.
Cooling Effect: Cucumber Oil has a natural cooling effect on the skin. When applied as an eye serum, it provides a refreshing sensation and helps reduce puffiness, especially when the oil is stored in a cool place (like the fridge).
Reduction of Dark Circles: While Cucumber Oil alone may not completely eliminate dark circles, its hydrating and soothing properties can help improve the appearance of dark circles over time. It can also aid in reducing the prominence of blood vessels that contribute to dark circles.
Antioxidant Protection: Cucumber Oil contains antioxidants like tocopherols and phytosterols, which protect the skin from free radical damage. This can help prevent premature aging and maintain the youthful appearance of the skin around the eyes.
Improvement in Skin Elasticity: Regular use of Cucumber Oil as an eye serum can enhance the elasticity of the skin, making it appear firmer and smoother.
Natural Astringent: Cucumber Oil has mild astringent properties, which can help tighten the skin and reduce the appearance of puffiness and sagging.
Gentle and Non-Irritating: Cucumber Oil is generally well-tolerated by most skin types, including sensitive skin. It's less likely to cause irritation or allergic reactions, making it a suitable choice for the sensitive eye area.
Reduces Eye Fatigue: Applying cucumber oil as part of your skincare routine can provide a soothing and relaxing experience, helping to reduce eye strain and fatigue.